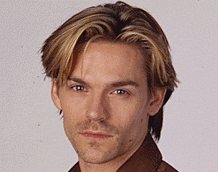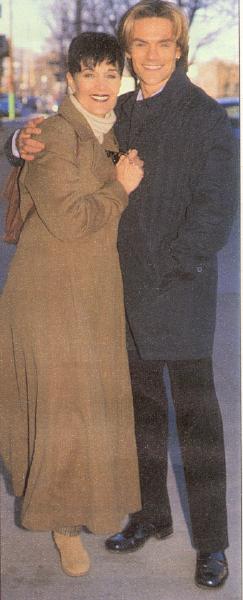 SOAPS IN DEPTH--NBC EDITION from page 43 dated February 9, 1999 FEATURE INTERVIEW BY STEPHANIE AKNER
There's a new kid on the block--emphasis on kid--and he's got his sights set on sophisticated romance novelist Felicia Gallant. And what's more, he isn't taking no for an answer. "We have a candlelight dinner, and the next night, she comes home and finds me creating disarray in her apartment, and kicks me out," says 27-year-old actor/singer/dancer Jonathan Sharp, speaking in character as fresh-off-the-boat Russian composer Sergei Radzinsky. "But I'll be back."
Felicia only met Sergei last week, and he was living in her apartment almost that quickly. At first, she felt responsible for getting him fired from his job as a chauffeur. But now, she may be keeping him around out of more than guilt. Could her bedroom be the next stop on his tour of the U.S.? "It's going in that direction," admits the daytime newcomer. "Right now I'd call it flirtations relationship. Whether it will go into some sort of four-wheel- drive love with kissing and a marriage proposal, I'm excited to know." Sharp isn't the only one. The comic mayhem that he has been creating with his leading lady, Linda Dano, is a throwback to the long-ago antics of Felicia and old flame Cass. "After shooting," Sharp reports, "Linda walked into the dressing room in her robe and said, very dramatically, "The old Felicia is back."
A less confident soap rookie than Sharp might be intimidated by working with the revered Dano. "But I wasn't nervous," insists the Broadway veteran, "because my whole karmic philosophy was that we're all just human beings. No matter where you've been or what you've done, you started as a babe. You come into this world as nobody, and you gather what you can along the way." Besides, acting opposite Dano has been a dream come true for Sharp. "She was beyond incredible," he says. "I showed up on [my first day] and thought, 'I won't fantasize about how exactly I want to do anything so that I'll be open to her and be able to get as much from her as I can.' And she came in and kept me in instead of doing her own performance and lagging me behind. She was like a warm blanket. I was so thankful. At the end of the day, I thought, 'This is easy.' "It's always touching," he adds, "when someone of royalty--because she is soap opera royalty--"bows to you."
While Dano might scoff at being crowned queen of suds, she is quick to call her new co-star a prince. "When he auditioned, he was adorable," recalls the Daytime Emmy winner. "He tickles me. I don't have to pretend and substitute in my mind someone who is charming because he is so charming! [This storyline] is so fun to play. It gets me up in the morning thinking about how great it's going to be." Had Sharp not wowed the powers that be, Dano might be singing an altogether different time. "He was younger than anyone who auditioned," she reveals. "Some of the guys were in their 40s. But this is what the story has to be. This needs to be a kid Felicia thinks is adorable and doesn't think anything other than that she's going to help him. Little does she know!"
He Can Relate
Since winning his role, Sharp has been giving a lot of thought to why and how his alter ego will win over Felicia. As a result, he has come up with a philosophy that is unique to his character. "I come from Russia," the Mississippi native says in Sergei's Ukrainian accent. "Here is someone beautiful. I respect her. She writes my favorite books. She is funny and has a very nice apartment. I want to live there." Sharp pauses to laugh at Sergei's cunning, then continues in character. "Sometimes, you have no money when you come from Russia. You meet someone who does, and if she also happens to be beautiful, then where else are you going to go? If you leave, you crazy."
Force Of Will
Bet that Sergei's courtship of Felicia will include a love song. "From what I'm told, I will be singing on the show," reveals Sharp, who recently cut his first CD. Sharp may perform some fancy footwork on AW as well. He started his career as a classical dancer, and originally came to New York to study at the School Of American Ballet. And as much as his background in movement taught the Renaissance man about tripping the light fantastic, it may have taught him more about determination. "I started ballet late with a body that wasn't really dance-oriented," he explains. "I took five classes a day and nearly killed myself, and my shape changed just from the sheer will inside me. In a span of two or three years, my teachers went from saying 'You'll never really be a dancer' to 'You were born to dance."
That experience has colored the rest of Sharp's life. "When I started auditioning for singing roles, everyone was saying 'You're a dancer," he remembers. "I did six auditions for the original production of Rent, and they said, 'You don't have a strong enough voice.' "But," he adds, "I didn't go home and say, 'That's it. No way. 'No' is a temporary state of being. What is no today might be yes tomorrow." Lucky Felicia. She doesn't stand a chance!
SOAP OPERA MAGAZINE from page 6 dated February 2, 1999 A SHARPER IMAGE by K.W.
Multitalented Jonathan Sharp joins AW as Sergei, a Russian immigrant who will put a spark back in Felicia's life. In making his AW debut as Russian immigrant Sergei Radzinsky, Jonathan Sharp showed another facet to his acting repertoire. Although the world of daytime is not new to Sharp, who has had small roles on GL and Loving, his face would be more familiar to fans of the theater. He has appeared on Broadway in Carousel, The Red Shoes, and Anyone Can Whistle and is an accomplished pianist, singer, and dancer. Although he has not been with the show for very long, the actor already has his new soap character sized up.
"He's the eldest son in a family that struggled with poverty and religious persecution," Sharp says. "He's a recent arrival from Russia. He's a composer with an impassioned temperament and has a little bit of difficulty controlling his temper when he feels that he's been wronged. He's also gentle, a talented cook, and a lover of wine, women, and song." When you hear the California-born Sharp effect his accent as he plays Sergei, you have no problem believing that he's Russian. That could be because he once lived in Russia. "I performed with a rock 'n' roll band there," says Sharp, who was raised in Mississippi. "I studied classical dance while growing up and went to the School of American Ballet. Somewhere between 60 and 75 percent of my teachers were Russian. So this is a wonderful opportunity."
So wonderful, in fact, that Sharp admits he cried when he found out he had landed the part. "I'm having so much fun meeting and getting to know everybody," he says with a smile. "On my first day, I worked with Linda Dano (Felicia) and Stephen Schnetzer (Cass). I got to watch them do two scenes before we all worked together. That was comforting. I enjoyed seeing how professionally and easily they worked together. And Linda is so charming, wonderful, giving, and generous. What a great actress." Sharp won't say whether Sergei and Felicia are going to get romantic, but he admits that he wouldn't mind such a storyline. "Felicia and I go out to dinner, but that's all I can tell you," he says teasingly. Sharp is also busy working on his first album titled Jonathan Sharp. "The songs are pop rock," he says. "They've all been written, and I'm producing them with the help of another man. Now that I'm spending so much time on AW, the process has become somewhat slower that I would like. But of course AW comes first." There's also talk of showcasing Sharp's musical talents on the show.
SOAP OPERA WEEKLY from page 62 dated March 2, 1999 WHO'S NEW--Jonathan Sharp--AW's Sergei Radzinsky by Jennifer Barend
CHARACTER: FELICIA'S IRASCIBLE--yet romantic, funny and gentle--friend, who has a nasty habit of putting his foot in his mouth.
BIRTHDAY: Oct. 21
HERE, THERE, EVERYWHERE: "My family is from the Hattiesburg area of Mississippi, but I grew up all over Mississippi."
HUNK-ERING DOWN: "I did a day of Guiding Light. Cassie was on the outs with Hart and was telling me her sob story. My character didn't have a name except for 'the Hunk.' I went into a cast that is full of hunks. Talk about pressure."
LET ME ENTERTAIN YOU: "I've always sung and danced. In The Red Shoes [on Broadway], I played a Russian [like Sergei], so I've had some experience with the dialect and that kind of character. I've auditioned for many soaps, but I think it was the Russian thing that landed me the Another World job. When my agent called me and said, 'You got the job,' I said, 'If this is a joke, it's not funny.' I cried. I was just like, 'Someone actually said yes?' "
COMFORT ZONE: "I wasn't nervous for my first day at all. Linda (Dano; Felicia) said to me, 'If anything doesn't feel right, we're going to do it again.' Underneath all those feathers is a really funny, nice lady. I knew immediately that I was in good hands."
RIDING THE WAVE: "The script up until this point is comedy. I'm finding out that Felicia has always done over-the-top things. The first day we worked, Linda had a boa wrapped around her neck. There were feathers everywhere, and every time we cut, they had to come in and get the feathers off the set. She's brilliant with comic timing. What's even better is that she doesn't plan her humor; she just picks something up and goes off on tangents.:
MUSIC MAN: "Sergei is a composer, and I personally have a project of music that I've been recording. It's great because I can just sort of be me in the role."
SPLIT PERSONALITY: "Sergei is basically a good character, but there is the potential for him to be a bad guy. He comes from a background of poverty and religious persecution and has learned how to survive."